Search and book your accommodation
Your search gave no results. Please try again!
Search and book activities
Your search gave no results. Please try again!
Search and book a table
Your search gave no results. Please try again!
Sylarna, STF Mountain station
Address

: STF Sylarna Fjällstation, 83771 Duved
show map
Location: Sylarna
Youth hostels | Sylarna Mountain Lodge lies 1 035 m above sea level next to the majestic Syl massif, which has its highest peak of 1 762 m on the Norwegian side of the border.

Sylarna is an ancient intersection for hiking trails from Blåhammaren, Storulvån, Helags, Gåsen and the Norwegian Nedalen and Storerikvollen. The nearest road is 16 km away, in Storulvån.
The mountain lodge has around 100 beds in 3/5-bed rooms, one 8-bed room and 12 beds in an annex.
Hot and cold water is provided in the rooms. Shower, toilet and sauna facilities are in the corridor. The annex Kläppen houses a common room, self-catering facilities and a kitchen. Some of the rooms in the annex accept dogs – these must be prebooked at the mountain lodge during high season.

The main building has a large self-catering kitchen and a dining room with views over the Syl massif, plus a shop with a variety of fresh, canned and frozen foods for self-catering.

Ski climbing equipment, telemark skis and a selection of sports equipment is available for hire. There is a telephone and an emergency phone.
Facilities and services
Room facilities

Pets allowed

Kitchenette

Reception

Special requirements
Compare "Sylarna, STF Mountain station" with similar alternatives
Storulvån lies at the end of the road at the heart of the mountain region, like a welcoming pair of arms at the foot of the mountains. Here you can find peace and tranquillity and wide open spaces right around the corner. Storulvån attracts a wonderful mix of skiers, families with children, connoisseurs and mountaineers. Everyone can enjoy the great outdoors in their own way.
Blåhammaren is the highest of STF's mountain lodges, lying above the tree line on a mountain side in west Jämtland, at 1 086 metres above sea level. The views are fantastic.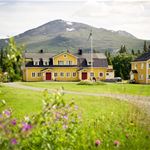 Enaforsholm Fjällgård is in the middle of the wilderness, close to both Åre, Storulvån and Storlien. Beautifully located below the magnificent Snasahögarna and surrounded by river Enan. Here you can easily travel all the way by car or train that stops at Enaforsholm station. The mountain holiday for those who want to live in a beautiful setting with the possibility of really good food