Search and book your accommodation
Your search gave no results. Please try again!
Search and book activities
Your search gave no results. Please try again!
Search and book a table
Your search gave no results. Please try again!
Youth hostels | Medstugan offers accommodation in a historical environment with mountain scenery, with fishing and farming right outside the door. The hostel is located in the scenic western Jämtland about 50 km from Åre, at the foot of the mountain towards the Norwegian border.
The hostel: "Mejeriet"
The hostel has 9 beds, four double rooms and one single room. Living room with TV and a large kitchen equipped with fridge, freezer, dishwasher and microwave oven. There is also a washing machine and drying cabinet as well as two shower rooms with toilets. The rooms are of a good standard and are simply equipped. Clean and fresh, old-fashioned furnished rooms with modern comfort. All rooms have single beds and a small table.

Rättarbostaden
In Rättarbostaden you can book a bed in shared quadruple rooms. Separate house with two quadruple rooms with two bunk beds in each room. Living room with kitchenette for coffee making or breakfast (no oven). Larger kitchens and living room with TV are available at the hostel. If you book a stay for 4 people, you are guaranteed to have your own room.

Note! One booking/person must be made. Please write a note that you are in the same company.

The log cabin: "Sönnan"
Log cabin with 4+1 beds. The cottage has one bedroom with two bunk beds. Combined living room and kitchen where you can cook your own meals. The living room has a dining area and a sofa bed that sleeps one person. Larger kitchens, shower rooms, restrooms and shared living room with TV are available at the hostel.

Membership
For guests who are not members of Hushållningssällskapet there will be an extra charge of 50 SEK per night/person.

For questions about the rooms or if you villl bring your pet, call: +46 (0)70-261 57 35, or email us at medstugan@hushallningssallskapet.se
Compare "Medstugan hostel" with similar alternatives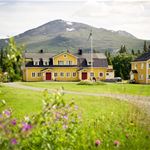 Enaforsholm Fjällgård is in the middle of the wilderness, close to both Åre, Storulvån and Storlien. Beautifully located below the magnificent Snasahögarna and surrounded by river Enan. Here you can easily travel all the way by car or train that stops at Enaforsholm station. The mountain holiday for those who want to live in a beautiful setting with the possibility of really good food
We have, since 1982, not had a closed day. We take care of our guests during the high-as well as off-season. Taxi services are available to and from the hotel, which we are happy to help you with.
Fjäll-lien consists of 57 houses and a service building. The houses are built in lengths of 2-4 houses.