Search and book your accommodation
Your search gave no results. Please try again!
Search and book activities
Your search gave no results. Please try again!
Search and book a table
Your search gave no results. Please try again!
Blåhammaren, STF Fjällstation
Address

: STF Blåhammaren Fjällstation, 83771 Duved
show map
Location: Åre
Youth hostels | Blåhammaren is the highest of STF's mountain lodges, lying above the tree line on a mountain side in west Jämtland, at 1 086 metres above sea level. The views are fantastic.
Blåhammaren Mountain Lodge has a history dating back to 1913. The lodge is situated off the beaten track, in roadless countryside, accessible only on foot or on skis from Storulvån, Rundhögen or Storvallen.

The mountain lodge has around 50 beds in the main building and an annex. The main building offers twin rooms, 4-bed rooms and 6-bed rooms as well as toilets, showers, a sauna and drying room. The annex contains a 14-bed room and a room with mattresses on the floor, as well as self-catering facilities and a drying room.

We serve a breakfast buffet, a lunch of fruit soup (which also has a history dating back to the 1920s). Dinner is served at 6pm – a three-course buffet with common seating and table plan. The lodge is fully licensed.
Blåhammaren is a small lodge with a high level of occupancy, which means that dinner should be booked when booking accommodation. Special food requirements should be mentioned when booking.

We have a small shop with a limited selection of food items, sweets, clothing and souvenirs.

Blåhammaren is situated in an area of historical interest, with monuments from the retreat of Karolinerna (King Charles' men), from Norway in 1719.
As the lodge already lies high up in the mountains, it is not far to the nearest peak, Blåhammarkläppen.
There are many suggestions for daytrips from the lodge. The staff can gladly help with tips and ideas.
Compare "Blåhammaren, STF Fjällstation" with similar alternatives
Storulvån lies at the end of the road at the heart of the mountain region, like a welcoming pair of arms at the foot of the mountains. Here you can find peace and tranquillity and wide open spaces right around the corner. Storulvån attracts a wonderful mix of skiers, families with children, connoisseurs and mountaineers. Everyone can enjoy the great outdoors in their own way.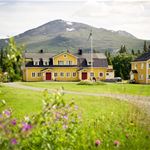 Enaforsholm Fjällgård is in the middle of the wilderness, close to both Åre, Storulvån and Storlien. Beautifully located below the magnificent Snasahögarna and surrounded by river Enan. Here you can easily travel all the way by car or train that stops at Enaforsholm station. The mountain holiday for those who want to live in a beautiful setting with the possibility of really good food
Stay in a self-catering apartment, close to everything. Centrally located with 50 meters to Storlien Högfjällshotell, 100 meters from the railway station.