Search and book your accommodation
Your search gave no results. Please try again!
Search and book activities
Your search gave no results. Please try again!
Search and book a table
Your search gave no results. Please try again!
Kayaking on the wild, beautiful Ottsjön
Date: Thursday 15 aug 2019 - Friday 30 Aug 2019
Show map

The paddle pulls through the crystal clear water. You slide forward, quietly and safely. The only thing you hear is the waves and maybe some Common Goldeneye or cranes. The mountains surround you, safe and powerful. You are on a mountain trip, in the water element.
We welcome you to a really nice mountain experience. From two hours to a full day we paddle the incredibly beautiful Ottsjön, close to both the real wilderness and a living cultural landscape. Suitable for both experienced and beginners.

ATI Mountain Experience and Fjällkajakcenter is approved ecotourism operators. All our paddling tours are marked Nature's Best, which guarantees you the highest quality!

At least 3 participants, if the requirement is not met, your reservation may be canceled and you will be paid the full amount.

Program summer 2018:
(All tours can also be booked at times other than those listed, please contact us: +46 (0)70-215 21 46)

Wednesday
6.30 am - 9.30 am - Breakfast paddling
10 am - 4 pm - Carpe Diem

Thursday
1 pm - 4.30 pm - Sun, wind, or just water...
6 pm - 9.30 pm - In the light of dusk, evening paddling

Friday
9.30 am - 11.30 am - Try your hand at kayaking
Show more
Book now - choose start date and product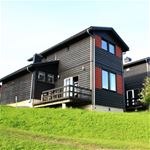 Chalets
Distance: 16.5 km
Hedmans Fjällby is a calm familiy friendly facility just 15 kilometers east of Åre village. It is a peaceful and pleasant area not to far from the ski lift systems in Åre, Duved, Trillevallen and Edsåsdalen.
Chalets
Distance: 17.4 km
A mountain farm in Åre, established 1897. A truly unique accomodation with room for up to 35 guests.
Youth hostels
Distance: 15.5 km
Södergården is an allergy-free accommodation with a good indoor environment 10 minutes from Åre village. Södergården is the only facility in the Nordic region that is adapted to those with severe allergies and asthma.